ENG – Michel Kichka is an Israeli cartoonist and illustrator of Belgian origin. Kichka produces comics in French and Hebrew for various media outlets and is also the auteur of several books. He is one of Israel's leading comic book artists and political cartoonists and has won the prestigious Israeli "Dosh Cartoonist Award". He teaches the next generations of comic artists at the Bezalel Academy of Art and Design where he was once himself a student.
FR – Michel Kichka est un dessinateur et illustrateur israélien d'origine belge. Michel Kichka publie des bandes dessinées en français et en hébreu dans différents médias et est également l'auteur de plusieurs livres de bandes dessinées. En Israël, il est l'un des auteurs majeurs de bandes dessinées et de caricature politique et a remporté le prestigieux trophée israélien de la bande dessinée "Kariel Gardosh". Michel Kichka a fait ses études à Bezalel, l'École des beaux-arts de Jerusalem, où il est maintenant professeur.
NL – Michel Kichka is een Israëlische tekenaar en illustrator van Belgische afkomst. De Franstalige en Hebreeuwse cartoons van Michel Kichka worden regelmatig in verschillende media gepubliceerd en hij heeft ook meerdere stripboeken uitgegeven. In Israël is hij een belangrijke stripauteur en politieke cartoonist. Hij won de prestigieuze Israëlische striptrofee "Kariel Gardosh". Michel Kichka studeerde aan de Bezalel Hogeschool voor Schone Kunsten in Jeruzalem, waar hij nu professor is.
Michel Kichka @ Website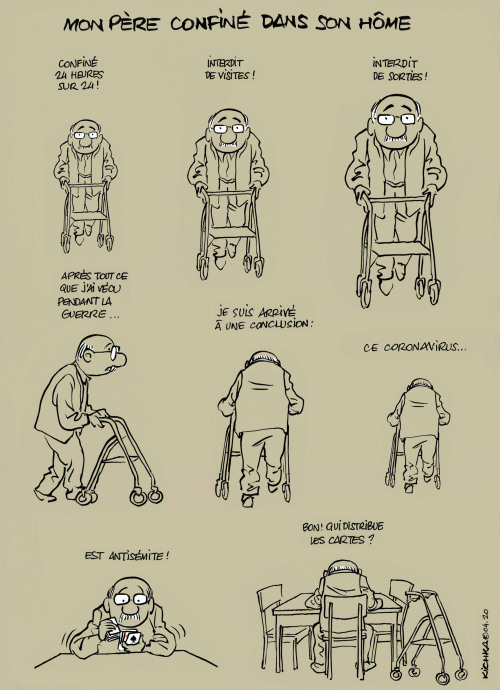 English translation
My father confined in his nursing home
(from top to Bottom and left to right)
– Confined around the clock!
– No visitors allowed!
– No outings!
– After all I went through during the war…
– I came to a conclusion:
– This Coronavirus…
– Is anti-Semitic!
– Ok! Who is dealing the cards?
Nederlandse versie
Mijn vader in lockdown in zijn rusthuis
(van boven naar beneden, van links naar rechts)
– 24u/24 binnen blijven!
– Bezoekers verboden!
– Buitengaan verboden!
– Na alles wat ik heb meegemaakt tijdens de oorlog…
– Ben ik tot één conclusie gekomen:
– Het coronavirus…
– Is antisemitisch!
– Goed! Wie deelt de kaarten uit?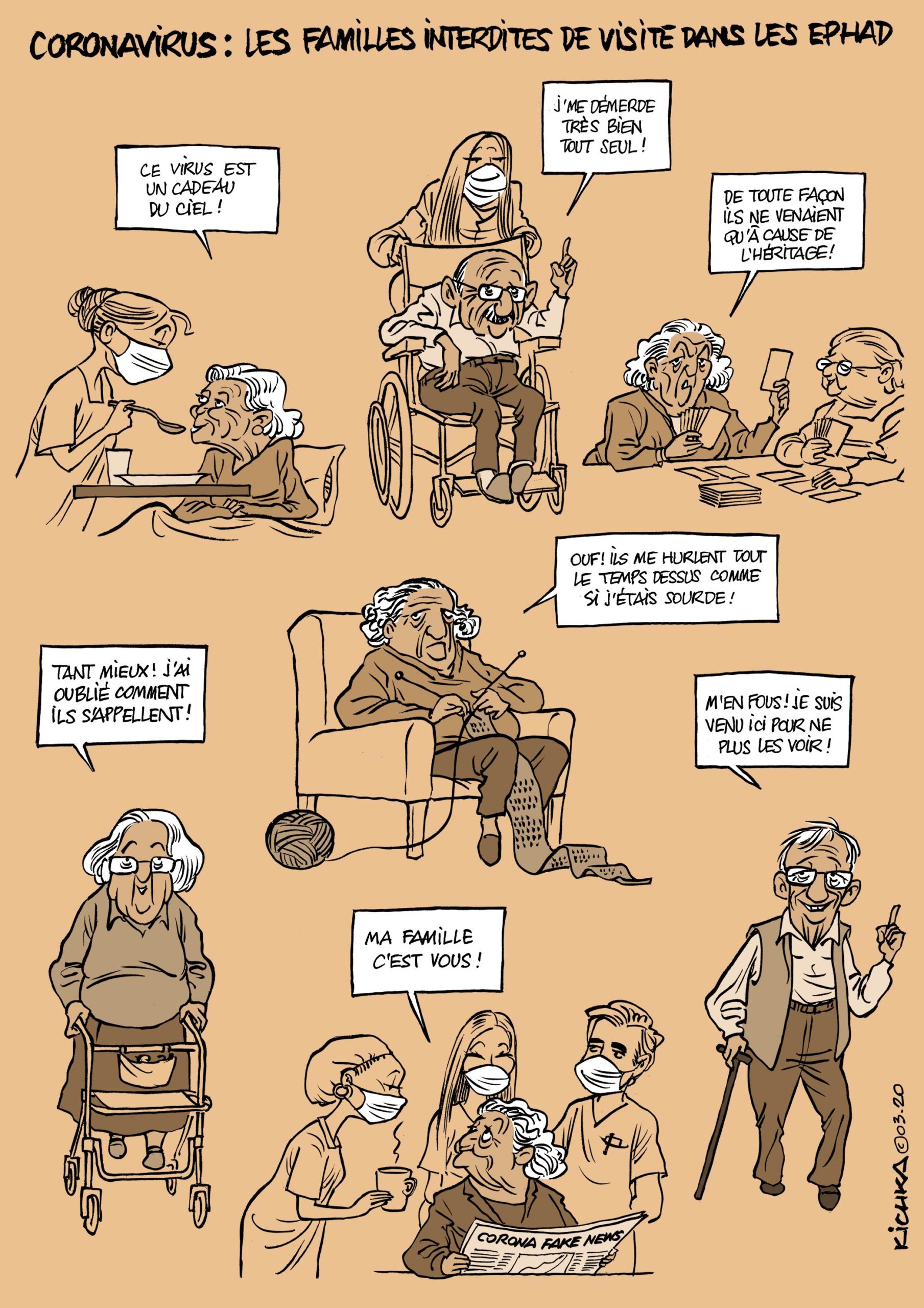 English translation
Coronavirus: no family visits allowed in the RCFE
(from top to Bottom and left to right)
– This virus is a gift from above!
– I can manage very well on my own!
– Anyway, they only visited because of the inheritance!
– Phew! They were yelling at me all the time like I was deaf!
– Better this way! I forgot their names!
– My family is you!
– I Don't care! I came here to not see them anymore!
Nederlandse versie
Coronavirus: geen familiebezoek in de woonzorgcentra
(van boven naar beneden, van links naar rechts)
– Dit virus is en Godsgeschenk!
– Ik trek mijn eigen plan wel!
– Ze kwamen toch alleen maar op bezoek voor de erfenis!
– Gelukkig maar! Altijd in mijn oren schreeuwen alsof ik doof ben!
– Zoveel te beter! Ik ben toch vergeten hoe ze heten!
– Jullie zijn mijn familie!
– Kan me niets schelen! Ik ben naar hier gekomen om van hen af te zijn!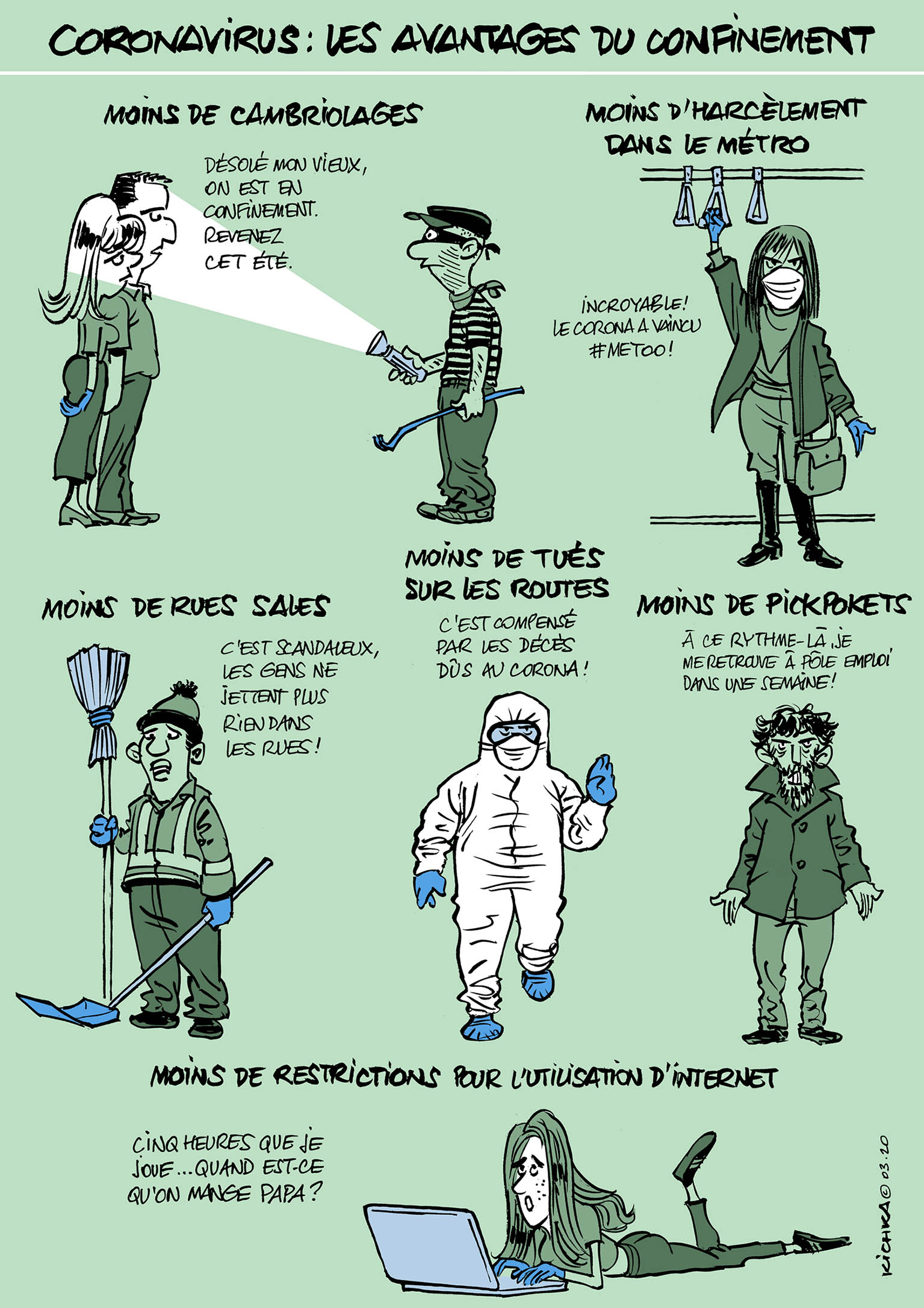 English translation
Coronavirus: the advantages of the lockdown
(from top to Bottom and left to right)
LESS BURGLARY
Sorry man, we're in lockdown. Come back this summer.
LESS SEXUAL HARASSMENT IN THE SUBWAY
Incredible! Corona defeated #METOO!
LESS DIRTY STREETS
It's scandalous, people don't throw anything on the streets anymore!
FEWER ROAD FATALITIES
It is compensated by the deaths caused by the Virus!
LESS PICKPOKETS!
At this rate, I will find myself at the job center within a week!
LESS RESTRICTIONS ON INTERNET USE
I've been playing for five hours… When do we eat dad?
Nederlandse versie
Coronavirus: de voordelen van de lockdown
(van boven naar beneden, van links naar rechts)
MINDER INBRAKEN
Sorry maat, we zitten in lockdown. Probeer van de zomer nog eens.
MINDER SEKSUELE AANRANDINGEN IN DE METRO
Ongelooflijk! Het coronavirus heeft #METOO verslagen
MINDER VUILE STRATEN
Schandalig, de mensen smijten niks meer op de grond!
MINDER VERKEERSSLACHTOFFERS
Dat wordt gecompenseerd door de coronaslachtoffers!
MINDER ZAKKENROLLERS!
Als het zo voortgaat sta ik volgende week bij de VDAB!
MINDER BEPERKINGEN VOOR INTERNETGEBRUIK
Ik zit nu al vijf uur te spelen… Wanneer eten we, pa?