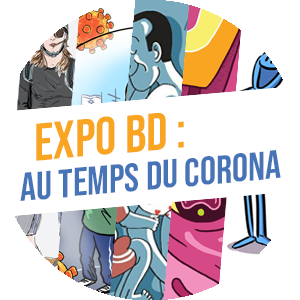 – ENGLISH –
Imaj presents a virtual exhibition of comics and drawings produced by the Cultural Service of the Embassy of Israel :
"DURING LOCKDOWN SPEECH BALLOONS STILL FLY!"
12 Israeli artists have each sketched in their own style the impact of the terrible virus on their and our daily lives. Their drawings are available in English, French and Dutch.
Ilana Zeffren's cats comment on reality as they see it, Michel Kichka tenderly and humorously depicts his father who recently passed away from the virus, Ilanit Shamia reviews urban fashion during the corona days in Tel Aviv, the virus becomes an untamable rodeo-beast through the pencil of Shay Charka, Maya Prat involves the public and draws the funniest stories that were told to her – and many more!
– FRANÇAIS –
Imaj présente une exposition virtuelle de BD et dessins produite par le Service culturel de l'Ambassade d'Israël :
« AU TEMPS DU CORONA, LES BULLES S'ECLATENT ! »
12 artistes israéliens ont dessiné à leur manière l'impact du terrible virus sur leur/notre quotidien. Leurs créations se déclinent en français, néerlandais et anglais.
Les chats d'Ilana Zeffren commentent la réalité telle qu'ils la voient, Michel Kichka dessine avec douceur et humour son père récemment décédé du virus, Ilanit Shamia observe la mode urbaine au temps de Corona à Tel-aviv, le virus devient une bête de rodéo indomptable chez Shay Charka, Maya Prat fait participer le public et dessine les histoires que l'on lui raconte, et bien d'autres !
– DUTCH –
Imaj host een virtuele strip-tentoonstelling, een productie van de Culturele Dienst van de Ambassade van Israël:
"TEKSTBALLONNEN BLIJVEN VLIEGEN TIJDENS DE LOCKDOWN!"
12 Israëlische kunstenaars hebben in hun eigen stijl de impact van het vreselijke virus op hun en ons dagelijks leven geschetst. Hun werk is te lezen in het Nederlands, Frans en Engels.
Ilana Zeffren's katten geven commentaar op de nieuwe realiteit, Michel Kichka tekent zijn vader die onlangs aan het virus is heengegaan op een tedere en humoristische manier, Ilanit Shamia houdt de laatste modetrends tijdens de lockdown in Tel Aviv in de gaten, het virus wordt een ontembaar rodeobeest bij Shay Charka, Maya Prat betrekt het publiek bij haar werk en tekent hun vreemdste lockdown-verhalen, om er maar een paar te noeme !